Dear Guardian,
In India, since beginning the main motto of education to provide high quality education in value based atmosphere. Whole purpose of education is to turn mirrors in to the windows. Education is the progressive discovery of ignorance. with these point of view we have seen that in the town there was lack of one good english medium institution to fulfill this vaccum. now in the Institution LITTLE ANGEL PUBLIC SCHOOL is going to be established. We are trying our best to provide metro education in this town and we assure you to leave no any stone unturned to do the full justice with education.we will meet all these challenges with our infrastructure dedicated and committed teachers and creative methods. Also we want to say that the principal object of this institution is not mercenary but missionary.
With Thanks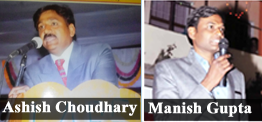 Ashish Choudhary || Manish gupta
We believe children are born with wings, management and teaching staff just help them to fly.